Program Accreditation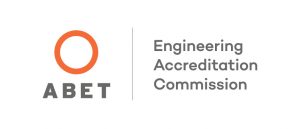 The undergraduate Civil Engineering Program at UMaine is accredited by the Engineering Accreditation Commission of ABET. (www.abet.org)
Program Educational Objectives
The objectives of the Civil Engineering Programs are as follows. Students who complete the program will, 3-5 years after graduation:
Practice the disciplines of transportation, environmental, structural, water resources, and geotechnical engineering, and/or related fields.
Engage in advanced education, research, and development.
Pursue continuing education and professional licensure.
Promote and advance public health and safety, and enhance quality of life.
Act in a responsible, professional, and ethical manner.
These objectives have been developed by the Civil & Environmental Engineering faculty, in consultation with the professional engineering community.
Student Outcomes
Upon successful completion of the program the student will have the:
ability to apply knowledge of mathematics, science, and engineering.
ability to design and conduct experiments as well as analyze and interpret data.
ability to design a system, component, or process to meet desired needs.
ability to function on multi-disciplinary teams.
ability to identify, formulate, and solve engineering problems.
understanding of professional and ethical responsibility.
ability to communicate effectively.
 broad education necessary to understand the impact of engineering solutions in a global and societal context.
recognition for the need for, and an ability to engage in life-long learning.
knowledge of contemporary issues.
ability to use the techniques, skills, and modern engineering tools necessary for engineering practice.
Annual Student Enrollment and Graduation Data
The UMaine Civil and Environmental Engineering Program currently grants 50-60 BS degrees in Civil Engineering each year.
Our present undergraduate enrollment is approximately 270 students.
For recent historical data on the number of graduates and enrollments, please see the Office of Institutional Research site