Shaleen Jain, Ph.D.
Associate Professor of Civil and Environmental Engineering and Graduate Coordinator
Cooperating Associate Professor, Climate Change Institute
313 Boardman Hall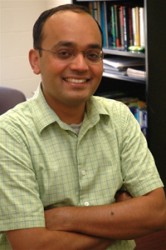 University of Maine
Orono, Maine 04469-5711
Phone: 207.581.2420
Fax: 207.581.3888
Email: Shaleen.Jain@maine.edu
Education:
Ph.D. – Civil & Environmental Engineering
Utah State University, 2001.
M.S. – Civil & Environmental Engineering
Utah State University, 1998.
B.Tech. – Civil Engineering
Indian Institute of Technology, Bombay, 1993.
Courses:
CIE 455 Hydrology
CIE 598 Physical Hydrology
CIE 598 Quantitative Methods in Water Resources
CIE 598 Managing our Water Resources
Research Interest:
Hydroclimatology, Environmental Flows, Climate Variability and Change, Hydrosystems Modeling, Adaptive Management and Decision Analysis.
Selected Publications:
Jain, S., C. A. Woodhouse, and M. P. Hoerling (2002), Multidecadal streamflow regimes in the interior western United States: Implications for the vulnerability of water resources. Geophysical Research Letters, 29(21), 2036. AGU Editor's Choice: Surface Processes
Jain S., M. Hoerling, and J. Eischeid (2005), Decreasing reliability and increasing synchroneity of western North American streamflow. Journal of Climate 18(5), 613. Editor's Choice: Science [Smith 308 (5720):326a]
Jain, S., and J. K. Eischeid  (2008),  What a difference a century makes: Understanding the changing hydrologic regime and storage requirements in the Upper Colorado River basin,  Geophysical Research Letters,  doi:10.1029/2008GL034715, in press.