Roberto Lopez-Anido, Ph.D., P.E.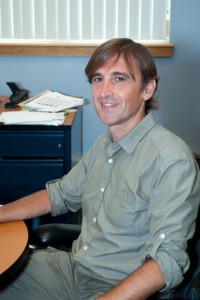 Malcolm G. Long '32 Professor of Civil Engineering
315B Boardman Hall
Department of Civil and Environmental Engineering
University of Maine
Orono, Maine 04469-5711
Phone: 207.581.2119
Fax: 207.581.3888
Email: RLA@maine.edu
Education:
Ph.D – Civil Engineering (Emphasis on Structures, Mechanics and Materials)
West Virginia University, 1995
Degree in Civil Engineering (equivalent to B.S. plus two years of Graduate Studies)
National University of Rosario, Argentina, 1985
Courses:
CIE 340 Introduction to Structural Analysis
CIE 543 Introduction to Composite Materials in Civil Engineering
CIE 545 Structural Dynamics
CIE 547 Prestressed Concrete Structures
CIE 644 Advanced Composite Materials in Civil Engineering
Professional Interest:
Professor Lopez-Anido has over 15 years of experience in the areas of mechanics of fiber-reinforced polymer (FRP) composites for construction, advanced engineered wood composites, experimental multi-scale mechanics, durability analysis of composite materials, and structural health monitoring.
He has produced 59 refereed publications and 6 patents. He received numerous awards including the NSF Career Award and the Fulbright Scholar Award. He has been named three times Professor of the Year by UMaine's ASCE Student Chapter.
He is an active member of professional societies and serves in the Editorial Board of the Journal of Materials in Civil Engineering of ASCE, and the Journal of ASTM International on Materials Performance and Characterization.
Areas of Expertise and Research:
Mechanics of fiber-reinforced polymer composites for construction
Advanced engineered wood composites
Experimental multi-scale mechanics
Durability analysis of composite materials
Structural health monitoring
Rehabilitation of civil infrastructure
Reliability analysis and design of composite structures
Selected Publications:
Herzog, B., Goodell, B., and Lopez-Anido, R. "Electron Microprobe Imaging for the Characterization of Polymer Matrix Composites," Composites Part A: Applied Science and Manufacturing, Vol. 35, No. 9, pp. 1075-1080, 2004.
Pirvu, A., Gardner, D.J., and Lopez-Anido, R. "Carbon Fiber-Vinyl Ester Composite Reinforcement of Wood Using the VARTM/SCRIMP Fabrication Process," Composites Part A: Applied Science and Manufacturing, Vol. 35, No. 11 pp. 1257-1265, 2004.
Lopez-Anido, R., Michael, A.P., Sandford, T.C., and Goodell, B. "Repair of Wood Piles Using Prefabricated Fiber-Reinforced Polymer Composite Shells," Journal of Performance of Constructed Facilities, ASCE, Vol. 19, No. 1, pp. 78-87, 2005.
Lopez-Anido, R., Muszyński, L., Gardner, D., Goodell, B., and Herzog, B. "Performance-Based Material Evaluation of Fiber-Reinforced Polymer-Wood Interfaces in Reinforced Glulam Members," Journal of Testing and Evaluation, ASTM Int., Vol. 33, No. 6, pp. 385-394, 2005.
Herzog, B., Gardner, D.J., Lopez-Anido, R., Goodell, B. "Glass-Transition Temperature Based on Dynamic Mechanical Thermal Analysis Techniques as an Indicator of the Adhesive Performance of Vinyl Ester Resin," Journal of Applied Polymer Science, Vol. 97, No. 6, pp. 2221-2229, 2005.
Dutta, P.K., Lopez-Anido, R., and Kwon, S.K., "Fatigue Durability of FRP Composite Bridge Decks at Extreme Temperatures," International Journal of Materials and Product Technology (IJMPT), Vol. 28, No. 1/2, pp. 198-216, 2007.
Nader. J.W., Dagher, H. J., Lopez-Anido, R., El Chiti, F., Fayad, G.N., and Thompson, L., "Probabilistic Finite Element Analysis of ASTM D6641 Compression Test for Marine Grade Polymer Matrix Composites," Journal of Reinforced Plastics and Composites, Vol. 27, No. 6, pp. 583-597, 2008.
Silva-Muñoz, R., and Lopez-Anido, R.A. "Monitoring of Marine Grade Composite Doubler Plate Joints using Embedded Fiber Optic Strain Sensors," Journal of Advanced Materials, Vol. 40, No. 4, pp. 52-72, 2008.
Berube, K.A., Lopez-Anido, R.A., and Caccese, V., "Integrated Monitoring System for Carbon Composite Strands in the Penobscot-Narrows Cable-Stayed Bridge," Transportation Research Record: Journal of the Transportation Research Board, No. 2050, pp. 177–186, 2008.
Silva-Muñoz, R., and Lopez-Anido, R. "Structural Health Monitoring of Marine Composite Structural Joints using Embedded Fiber Bragg Grating Strain Sensors," Composite Structures, published on-line ahead of print, 11 pp., Sep. 12, 2008.
Graduate Program:
Information on the Graduate Program in Civil and Environmental Engineering is available in this fact sheet.