Jean D. MacRae, Ph.D.
Associate Professor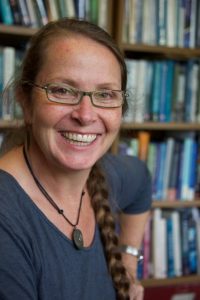 315A Boardman Hall
University of Maine
Orono, Maine 04469-5711
Phone: 207.581.2137
Fax: 207.581.3888
Email: Jean.MacRae@maine.edu
Education:
Ph.D. in Civil Engineering
University of British Columbia Vancouver, B.C., Canada, 1997.
M.S. in Microbiology
University of British Columbia Vancouver, B.C., 1991.
B.S. in Life Sciences
Queen's University, Kingston, Ontario, Canada, 1988.
Courses:
CIE 331 Fundamentals of Environmental Engineering
CIE 434 Wastewater Process Design
CIE 439 Air Pollution and Solid Waste
CIE 534 Environmental Microbiology
CIE 537 Water Pollution
CIE 598 Biological Processes
Research Interest:
Dr. MacRae's research interests include microbial processes that affect pollutant and nutrient cycling, sustainability issues and access to water and sanitation in the developing world.
Current Research:
Influence of microbial populations on arsenic mobility in groundwater. Microorganisms can alter the form of arsenic, which changes its mobility and toxicity in groundwater systems. In this work, bacterial cultures are being studied to determine how they impact arsenic cycling and mobility under various incubation conditions. Molecular approaches are also used to look for correlations between microbial populations and chemistry in groundwater with different arsenic concentrations.
Decision tools to support water resources sustainability of managed lake systems. Drivers of water quality changes are being examined using Sebago Lake, Portland's water supply, as a case study. In this collaborative project, undertaken as part of the Sustainable Solutions Initiative, involves modeling of the lake system to aid in the management of dams at the inlet and outlet of the lake and of activities in the watershed. Long-term data are being examined to determine the linkages between water quality parameters and various physical factors such as water level, rainfall and land use. Physical and water quality models for the lake will be linked so that the impacts of land use pressures and climate change may be evaluated for planning and management purposes.
Adsorption of As to a variety of adsorbents. Arsenic contamination of drinking water is a problem in Maine and many other parts of the world: most notably in the Bangladesh and West Bengal. Students have been studying low cost adsorbents under various test conditions to determine their effectiveness for arsenic removal from drinking water.
Sustainable water and wastewater systems for the developing world. As the faculty advisor of Engineers Without Borders – UMaine (EWB-UM), Dr. MacRae has been involved in the development of designs and approaches for improving the quality of life in EWB-UM's partner community of Dulce Nombre de Copan, Honduras. Aspects of this work include getting to know the community (health surveys, needs assessment, community capacity and priorities), developing wastewater treatment options, working on community septic tank and leach field designs and implementation plans, testing water and other activities.