Eric N. Landis, Ph.D, P.E.
Professor of Civil and Environmental Engineering, Frank M. Taylor Professor, Distinguished Maine Professor (2004). Graduate School Coordinator.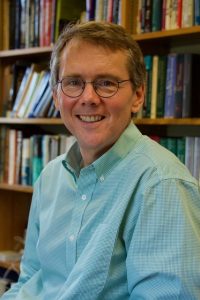 5711 Boardman Hall
University of Maine
Orono, Maine 04469-5711
Phone: 207.581.2173
Fax: 207.581.3888
Email: landis@maine.edu
Education:
Ph.D. Civil Engineering
Northwestern University, 1993.
B.S. Civil Engineering
University of Wisconsin, 1985.
Courses:
CIE 110 Materials
CIE 440 Structural Analysis I
CIE 540/ MEE 453 Experimental Analysis of Structures/ Experimental Mechanics
CIE 648 Fracture Mechanics
Professional Interest:
Eric's research interests are in experimental mechanics and fracture, with particular focus on the use of innovative laboratory techniques to solve problems of fracture and failure in cement-based and wood-based composite materials. He also dabbles in computational modeling, biomimetics, burrowing marine invertebrates, and other things he should probably keep his nose out of. He has particular expertise in x-ray computed tomography and associated 3D image processing, as well as a background in quantitative acoustic emission analysis techniques. He has published numerous scientific papers, and he is co-author of the text Fracture and Fatigue of Wood (Wiley, 2003). Prior to his academic career he spent several years in civil engineering consulting. At UMaine he has been honored for both his teaching and research. In 2002 he was presented with the UMaine Presidential Outstanding Teaching Award, in 2004 he was Distinguished Maine Professor, and in 2006 he was the Carnegie Foundation U.S. Professor of the Year in Maine.
For more information including publications, please reference his Google Scholar .